Sports sometimes have a bizarre, yet beautiful way of honoring and remembering, and that's what's happened after Damar Hamlin's on-field cardiac arrest.
The day after the Buffalo Bills safety collapsed on the field during a game, the Buffalo Sabres' Tage Thompson scored an overtime winner, his third goal of the night exactly three minutes into the overtime period. 
It was also his third hat trick of the season, and the game was played Jan. 3. 
CLICK HERE FOR MORE SPORTS COVERAGE ON FOXNEWS.COM
Hamlin wears No. 3, and the entire Sabres team wore shirts with his number before a game in Hamlin's honor.
The coincidences didn't end there. The latest one involved Hamlin's college teammate from the University of Pittsburgh.
Roughly an hour after the Jacksonville Jaguars and Tennessee Titans came together for a group prayer before their do-or-die AFC South title game, Hamlin's Pitt teammate, the Titans' Rashad Weaver, recovered a Jacksonville fumble. But it was no ordinary scoop.
The No. 3 on each 30-yard line on fields across the NFL is outlined in red to honor Hamlin. And that's precisely where Weaver recovered the ball.
Weaver and Hamlin played five years together for the Panthers.
The Titans took advantage of the turnover, too. Joshua Dobbs found Chigoziem Okonkwo for a 21-yard touchdown to give Tennessee a 10-0 lead.
Hamlin has improved significantly in recent days since going into cardiac arrest on the field during Monday night's game against the Cincinnati Bengals. He underwent CPR on the field for nine minutes, and medical staff used a defibrillator to revive him.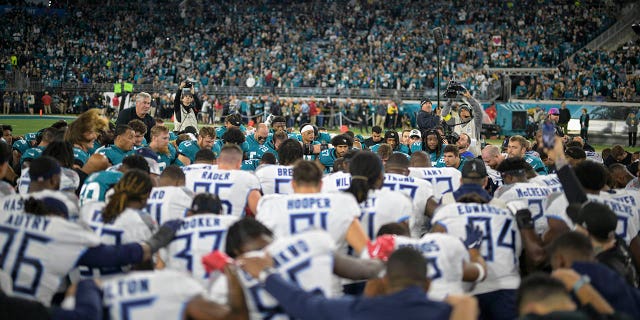 DAMAR HAMLIN MAKES FIRST PUBLIC COMMENTS SINCE CARDIAC ARREST: 'THE LOVE HAS BEEN OVERWHELMING'
Hamlin made his first public comments Saturday in an Instagram post.
"When you put real love out into the world it comes back to you 3x's as much…" he said. "The Love has been overwhelming, but I'm thankful for every single person that prayed for me and reached out. We brung the world back together behind this. If you know me you know this only gone make me stronger. On a long road keep praying for me!"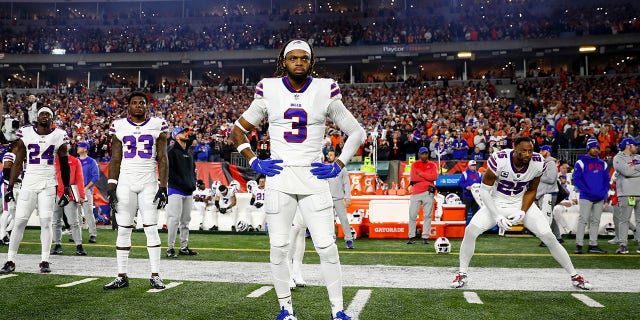 CLICK HERE TO GET THE FOX NEWS APP
When Hamlin first woke up earlier this week, he asked doctors, via writing, who won Monday's game, and he learned it had been postponed before it was later canceled. He was also able to speak with his teammates Friday and told them he loved them.
Over $8 million has been donated to his charity's toy drive that originally had a goal of $2,500.